NerdiGras 2022 Information
This event has been cancelled.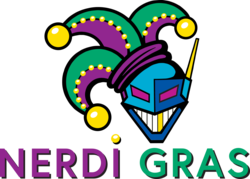 NerdiGras 2022
March 11-13, 2022
Cancelled


Atlanta Marriott Northwest at Galleria
Atlanta, GA


Gaming Convention with Costuming and Video Gaming programming




NerdiGras is a celebration of all things geek. It's 2 1/2 days of music, entertainment, video games, board games, and cosplay designed to evoke an Intergalactic Bourbon Street with a riot of color, sound, and energy. It's a place where all are welcome to join in a community of friends who play together, who are creative together, and who share a desire to be a part of a true Nerd Bacchanalia.
Registration Information
Advance Rates
$54.02 through March 10, 2022
At-Door Rates
All 3 Days: $54.02
Friday: $27.64
Saturday: $38.19
Sunday: $27.64