Magic City Con 2020 Information
This event has been cancelled.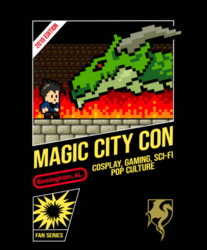 Magic City Con 2020
June 19-21, 2020
Cancelled


Hyatt Regency Birmingham - The Wynfrey Hotel
Birmingham, AL


Science Fiction Convention with Gaming and Video Gaming programming




We are sad to announce that due to the circumstances that we all find ourselves in with COVID-19 and social distancing, that we have made the difficult decision to postpone Magic City Con 2020 for this year. We know some of you have been affected in many ways due to COVID-19 and the shutdown. Our thoughts are with all of you during these uncertain times. We sincerely appreciate everyone's patience with us as we tried to determine the best way to handle hosting an event the size of Magic City Con while remaining mindful of health and travel concerns that many of you expressed. It would simply be too difficult to meet the state and local distancing requirements in our event setting.