AniFest 2020 Information
This event has been cancelled.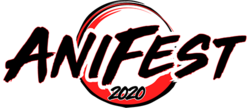 AniFest 2020
April 25, 2020
Cancelled


Torrance Cultural Arts Center
Torrance, CA


Anime Convention with Video Gaming programming




Like many of you, the team at AniFest waited and hoped, that the severity of COVID-19 would slow down as we moved closer into the Spring time. Unfortunately it would turn out that would not be the case.

Despite the actions we had planned in order to move forward with AniFest 2020, we have now decided to reschedule our event from April 2020 to at least Fall of this year for the sake of the safety of our attendees, partners, and staff. We held out for as long as we could, and remained patient until deciding it would be wise to make this move.
Registration Information
Advance Rates
$10 through April 24, 2020
At-Door Rates
$15